BPI-K210 is the first Banana Pi board with RISC-V chip design.An integrated artificial intelligence SOC chip solution that can accommodate neural network models, using a new risc-v instruction set for the field of artificial intelligence and edge computing. The main target market is the IoT and STEAM education market
Type Applications:
AI for Edge Computing
Smart Building
Medical equipment
Automation & Process Control
Robot
IoT applications
Key Features:
64-bit RISC-V CPU Dual-Core, up to 400MHz
IMAFDC (RV64GC) ISA extension
Hardware FPU (Float Point Unit), Double Precision
32 KB I-Cache per core and 32 KB D-Cache per core
8MB On-Chip SRAM 128Kbit One-Time Programmable Memory (OTP) ,Read Only Memory (ROM)
DMA
Camera and screen interface
WiFI and BT support
JTAG, OpenOCD support
About Kendryte K210 chip:
The Kendryte K210 is a system-on-chip (SoC) that integrates machine vision and machine hearing. Using TSMC's ultra-low-power 28nm advanced process with dual-core 64-bit processors for better power performance, stability and reliability. The program strives for zero threshold development and can be deployed in the user's products in the shortest time, giving the product artificial intelligence.
The Kendryte K210 is located in the SoC of the AI ​​and IoT markets and is a very convenient MCU.
Kendryte Chinese means surveying intelligence, while surveying intelligence is taken from surveying and searching. The main application field of this chip is in the field of Internet of Things, and it is developed in the field of Internet of Things. Therefore, this chip mainly provides artificial intelligence solutions, which are explored in the field of artificial intelligence.

Hardware interface: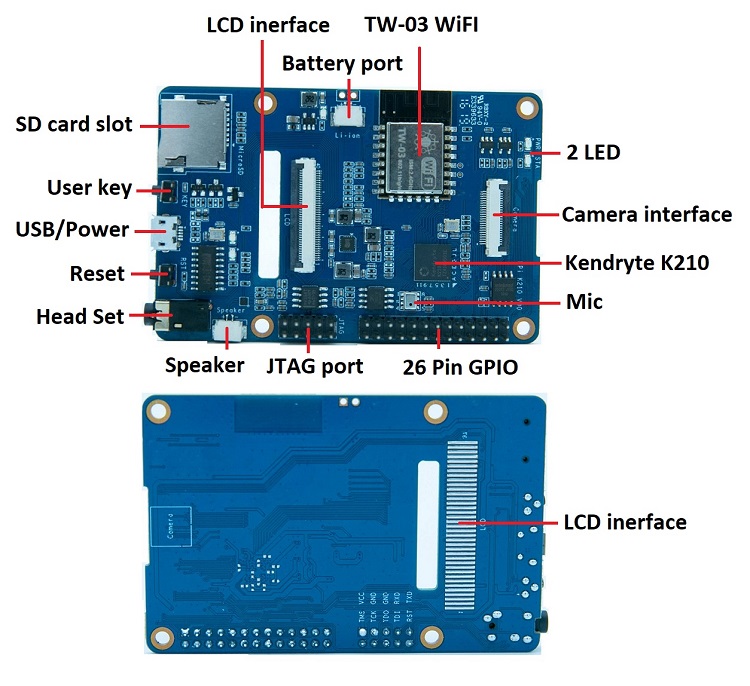 BPI-K210 Spec:
Hardware spec
CPU
Kendryte K210 64-bit RISC-V CPU Dual-Core, up to 400MHz
ROM
128Kbit
SRAM
8MB On-Chip SRAM 128Kbit One-Time Programmable Memory (OTP)
Flash
SPI flash 128Mbit
Display
LCD display interface
Camera
1 Camera interface
Voice
1 Head set,1 Speaker,1 Mic port
Power
5V@1A micro USB poweror or lithium battery power
GPIO
26 PIN GPIO
Debug
JTAG debug interface
Wi-Fi
TW-03 WiFI module onboard
LEDs
1 Power LED and 1 state LED
Sizes
56x85mm
Online wiki development documents :
https://wiki.banana-pi.org/BPI-K210_RISC-V_AIoT_board