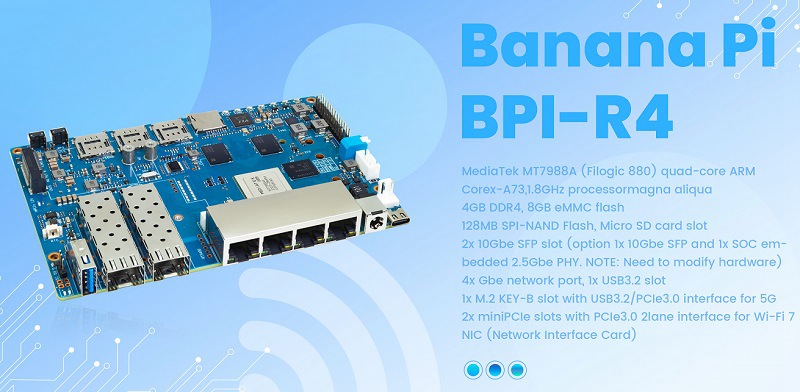 Banana Pi BPI-R4 Router board with MediaTek MT7988A (Filogic 880) quad-core ARM Corex-A73 design ,4GB DDR4 RAM,8GB eMMC,128MB SPI-NAND flash onboard, also have 2x 10Gbe SFP, 4x Gbe network port,with USB3.2 port,M.2 support 4G/5G/NVME SSD.2x miniPCIe slots with PCIe3.0 2lane interface for Wi-Fi 7 NIC (Network Interface Card). It is a very high performance open source router development board.
MediaTek MT7988(Filogic 880):
Mediatek Filogic 880. the 36Gbps Wi-Fi 7 access point/router/gateway platform delivers the fastest and most reliable connection experience
The MediaTek MT7988A is a world-Leading network processing platform for high-performance and reliable networking experiences,both in wired and wireless applications. The MT7988A comprises a rich connection interface sets include 4 Gigabit Ethernet ports. 2 USXGMII 10G interface. 4 PCIe Interfaces,and 2 USB 3.2 en1 Ports
the MT7988A further enables seamless Wi-Fi 7 tri-band,2.4 GHz.5 GHz and 6 GHz,connectivity,with its Wi-Fi 7 companion chip that features 320-MHz bandwidth,4096-QAM ,MLO,MRU,and AFC.
To answer the need of fast-evolving tunneling applications,the MT7988A comes with MediaTek Tunnel offload processor System(TOPS),which facilitates the processing of a wide range of tunneling protocols.The MT7988A optimizes networking performance with exquistitely tuned ISA of MediaTek TOPS,and is dedicated to lifting networking offloading performance to premium level.

Application direction:
. Internet service Router
. Wifi 7 Wireless Router
. 4G/5G Wireless Router
. Wireless Repeater
. Home security Gateway
. Home Automation
. Nas device
. Network and communication applications
硬件接口示意图: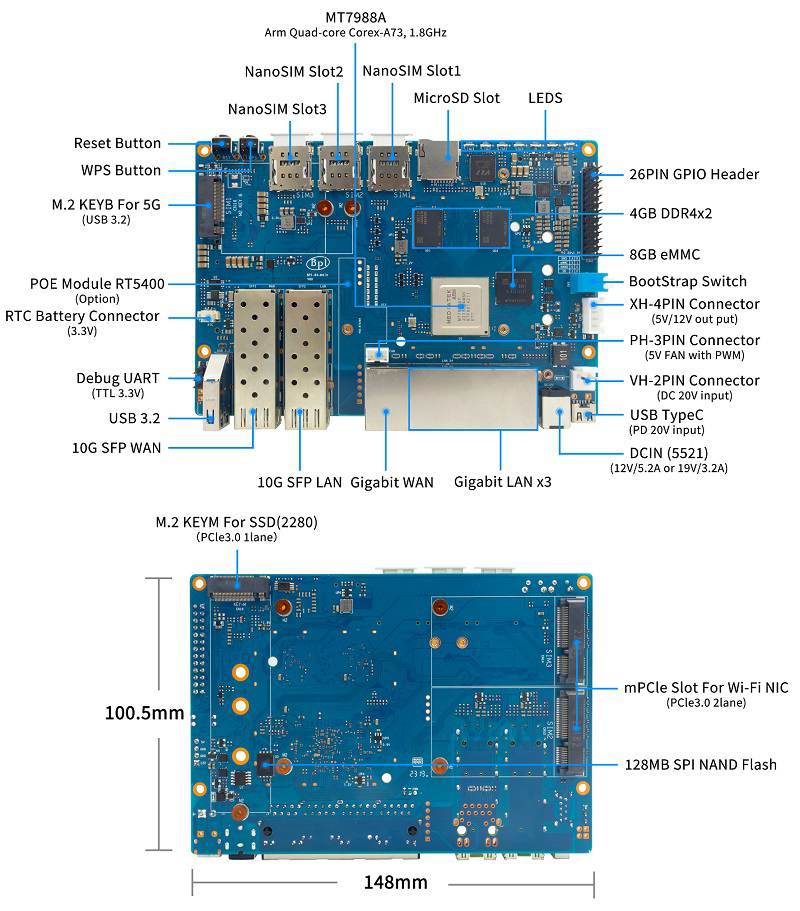 HardWare Specification of Banana pi BPI-R4
CPU
MediaTek MT7988A (Filogic 880) quad-core Arm Corex-A73,1.8GHz processor
SDRAM
4 GB DDR4
On board Storage
MicroSD (TF) card,8GB eMMC onboard
GPIO
26 Pin GPIO,some of which can be used for specific functions including UART, I2C, SPI, PWM, I2S.
On board Network
4 Port 10/100/1000Mbps Ethernet
SFP
2x10G SFP or 1x10G SFP and 1x 2.5GbE
Wifi
Wifi6/Wifi 7
mini PCIE
2x miniPCIe slots with PCIe3.0 2lane interface for Wi-Fi 7 NIC (Network Interface Card)
M.2 interface
1x M.2 KEY-B slot with USB3.2 interface for 5G,1x M.2 KEY-M slot with PCIe3.0 1lane interface for NVME SSD
USB
1xUSB 3.2 slot
Buttons
Reset button,WPS botton, boot switch
Leds
Power status Led and RJ45 Led
DC Power
12V/5.2A or 19V 3.2A
Sizes
100.5x148mm same as Banana Pi BPI-R64 and Banana Pi BPI-R2
Weight
250g
Online Wifi documents:
https://wiki.banana-pi.org/Banana_Pi_BPI-R4