FCIGC-600M large-scale industrial Internet of Things smart gateway is a new generation of Internet of Things access equipment, equipped with 2 independent IP Ethernet and 8 RS485 interfaces, flexible configuration, widely used in power, petroleum, factories and mines, and the automated monitoring of the Internet of Things industries occasion.
In order to meet the complex electrical requirements on site, FCIGC-600M has designed 3 expandable IO slots. Each IO slot can be configured as any one of 8xRS485, 8xDI, 8xDO or 8xAI as required. Cooperate to provide flexible configuration combinations.
FCIGC-600M has built-in massive protocol interpretation library and real-time database, which can be connected to various protection devices, measurement and control devices, IEDs and other equipment at home and abroad, and supports IEC61850. Special protocols can be customized according to user requirements; open APIs are provided to facilitate users to develop protocol software by themselves, which can be downloaded independently.

PCBA design: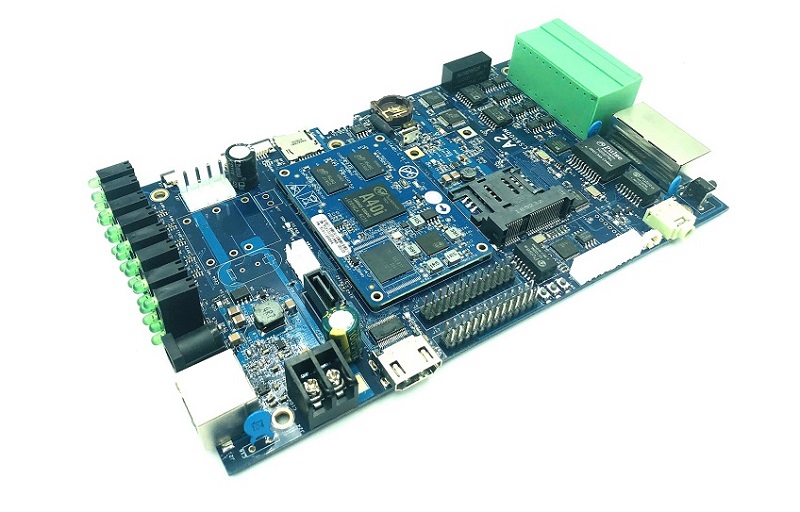 FCIGC-600M supports the access of hundreds of devices, data protocol analysis, conversion and unified transmission.
Another major feature of FCIGC-600M is its powerful video processing capabilities, including RTSP/RTMP video push-pull streaming, Onvif/GB28181 protocol stack and other video surveillance transmission functions, to achieve compatible access to video front-end equipment (IPC, NVR) from multiple manufacturers When equipped with a large-capacity hard disk, it can replace the NVR to realize video recording and playback functions; at the same time, it has a voice intercom function, providing the industry's only data + video perfect integration solution.
FCIGC-600M supports three configuration methods: 1. Built-in WEB management, through the browser to query/configure the working parameters of the device; 2. Special configuration software to configure the device parameters; 3. Cloud remote management, configure and diagnose the gateway through the gateway To achieve firmware and application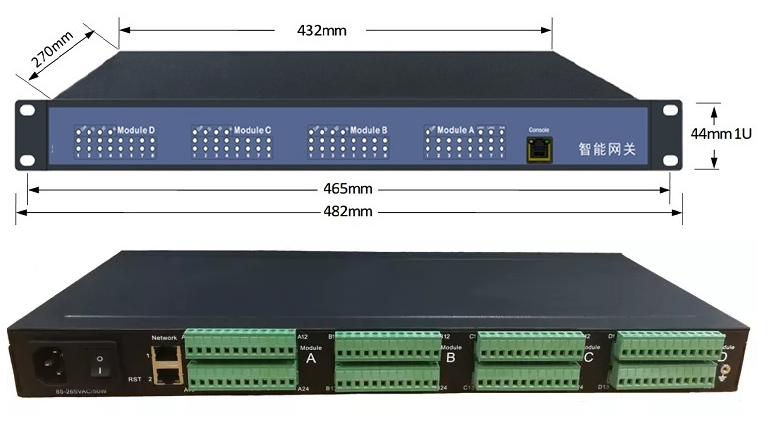 "Three in one" of data protocol processing, video protocol processing, and electrical IO volume processing;
Protocol and edge computing function secondary development capabilities, support C/expression/ladder diagram/Java/Python application programming;
3000+ actual application cases, suitable for many industrial Ethernet and Internet of Things application scenarios;
Embedded SCADA function, connected to the display screen or published via WEB, replacing the conventional SCADA system functions of the original X86+Windows.
(1)Built-in 200+ communication protocol library (see the protocol list for details), including: MQTT and other IoT protocols, OPC UA, IEC 60870-5-101/103/104, CDT, SPABUS, standard MODBUS and dozens of them Variants, plug and play; special agreements can be quickly customized according to needs, and secondary development environment can be provided;
(2)Support all Siemens PLCs to communicate through industrial Ethernet; support other types of PLC internal protocol communication;
(3)Support IEC61850 Server/Client function, realize two-way conversion between traditional protocol and 61850;
(4)Video stream acquisition, transmission, distribution, PTZ control, and local streaming media server functions;
(5)Encrypted transmission, resumable transmission at break;
(6)Built-in RTC, providing high-precision time reference;
(7)Modular design, basic unit + 3 expansion units, support on-demand configuration. Expansion IO unit modules include: ① 8xRS485 module with isolation, ② 8xDI module (switch input module), passive input (support up to 3 modules mixed insertion), ③ 8xDO module (switch output module), 8 relay outputs (up to Support 3 modules mixed insertion); ④ 8xAI module (analog input module), support 0-5V, 0-20mA input (support up to 3 modules mixed insertion); ⑤ Rola, 433M wireless transmission module, power line can be customized according to requirements Carrier module.
(8)Local device configuration management, cloud device configuration management;
(9)Telnet and SNMP services;
(10)The display module LCM can be selected to provide a human-machine interface (HMI) to configure and display the equipment;
(11)Strong electromagnetic compatibility design, in line with relevant international standards, and good anti-interference ability;
(12)Secondary development is possible, complete protocol development kits are provided, and various protocols can be customized;
(13)Standard 19-inch 1U rack-mounted appearance, beautiful appearance and convenient screen assembly;
(14)Container function (recently released);
(15)Embedded S
Hardware spec:
HardWare Specification
Performance
CPU: ARM Cortex -- A7 4-core, 1.2GHz, Linux,1GB/2GB DDR3, 8GB EMMC;Large capacity SD and large capacity hard disk can be built in
Basic communication unit
100BASE-T Ethernet interface : 2-way;RS485: 8-way, with isolation
Expansion communication unit
number of slots: 3, combination mode: any combination,Type of board: 8XRS485:8-way 485, with isolation; 8XDI: Passive input type, board card provides 24V isolated power supply; 8XDO: Relay output type, NC, COM, NO node;8xAI: 0-5V or 4-20mA, 2-wire or 3-wire input, board card provides 24V isolated power supply
Display interface
HDMI1.4, support 1080P ,USB supports keyboard and mouse;Or resistive/capacitive display interface
Data processing function
Device access capacity: <=64 sets (adjustable according to bandwidth and sampling period);Analog quantity <10000;Digital quantity <10000;Control quantity <10000;expression calculation definition, alarm processing;Video RTSP/RTMP, ONVIF, GB28181, voice intercom;C/C++ expression/ladder diagram /Java/Python edge computing secondary development environment;Built-in SCADA software function, (SCADA processing points <2000 points);Docker feature (recently released)
Application environment
Operating temperature: -40℃~+80℃;Storage temperature: -40℃~+70℃,Relative humidity: less than 85%, no condensation; Working power supply: AC 85-265V, 50Hz;Power consumption: less than 20W
Size and installation
482mm×270mm×44mm (length × width × height); Rack type standard 19 inches 1U
Weight
Net weight: 2.5kg
Bananapai team provides product function definition, hardware design, BSP-level software development, appearance mold design, production testing, supply chain management, direct integration to customers, product level delivery.


在线Wiki文档:
https://wiki.banana-pi.org/Awinner_A40I_for_Industrial_control_gateway_design