Banana Pie BPI-RK3588 LGA BGA package core board based on RK3588 design. RK3588 uses the typical size of 4 core Cortex-A76 and 4 core Cortex-A55 core architecture, large core main frequency 2.4GHz, small core main frequency 1.8GHz. Built-in 6.0T NPU for AI, with strong visual processing ability, can support a variety of fast face unlock schemes such as structured light and TOF; Support rich display interface, up to 8K display processing capacity; Strong scalability, support PCIE3.0, SATA3.0, dual TypeC/USB3.1 and other high-speed interfaces, can do AI computing, image data processing and other expansion. For ARMPC, High-end tablets, Edge Computing Servers, Virtual Reality, NVR, 8K TV, etc.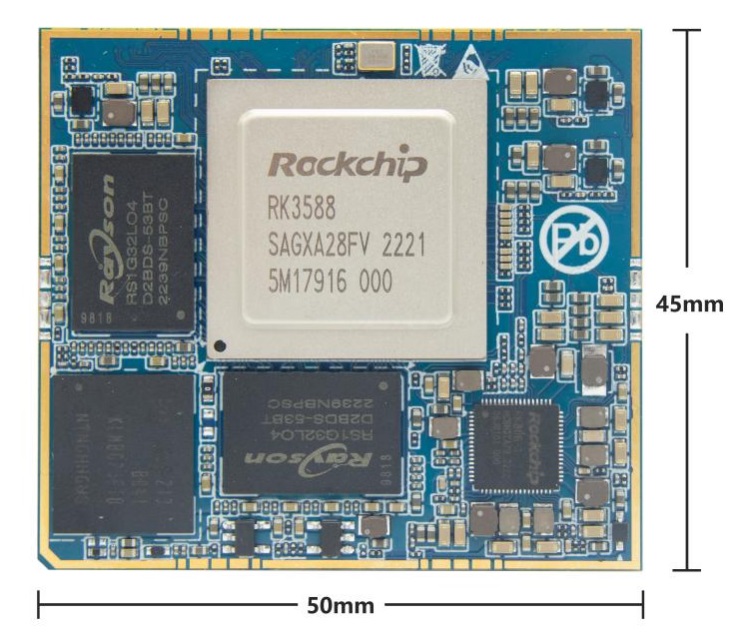 Product features:
* The best size, ensure all GPIO outlet at the same time, the size is only 50mm x 45mm x 4.1mm;
* Use dual channel LPDDR4(X) design, can support 2GB/4GB/8GB/16GB/32GB capacity;
* Support android12.0, debain11, ubuntu Buildroot, Kylin Linux and other operating systems;
* Rich extension interface, SATA3.0, PCIe2.0, PCIe3.0, I2S, CAN, SPI, UART, SPDIF, SDIO3.0, MIPI-DSI, MIPI-CSI, USB3.0, USB2.0, GPIO
* Stable and reliable products, after a large number of high and low temperature, repeated restart, copying machine 7 days 7 nights do not crash;
* Has completed full work regulations verification.
Core board main spec:
| | |
| --- | --- |
| SOC | RockChip RK3588 |
| CPU | Quad Core A76+ Quad Core A55 ,use 8nm , 2.4GHz |
| GPU | ARM Mali-G610 MP4 GPU,Support OpenGL ES3.2 / OpenCL 2.2 / Vulkan1.1, 450 GFLOPS |
| NPU | 6 TOPS,Support INT4/INT8/INT16 mixed operation,Support framework switching of TensorFlow/MXNet/PyTorch/Caffe |
| Incode&Decode | incode:8K@60fps H.265/VP9/AVS2、8K@30fps H.264 AVC/MVC、4K@60fps AV1、1080P@60fps MPEG-2/-1/VC-1/VP8 ,decode:8K@30fps H.265 / H.264 |
| Ram | 4GB/8GB/16GB(up to 32GB)64bit LPDDR4/LPDDR4x/LPDDR5,Defalut LPDDR4 8GB |
| Flash | 16GB/32GB/64GB/128GB/256GB eMMC,support MicroSD card slot,Defaut :32GB |
Banana Pi BPI-W3
design base on BPI-RK3588 LGA BGA package core board。Use can choose BPI-W3 to do development,If you want to plan your own products, you just need to redesign the bottom plate and mass production quickly。