Banana Pi BPI-D2 based on the AI intelligent camera chip design of Rockchip RV1109 and RV1126. The high performance machine vision processor SoC is controlled by artificial intelligence vision application. It is based on a quad-core ARM Cortex-A7 32-bit kernel with integration of NEON and FPU. Each core has a 32KB I-Cashe and 32KB D-cache, as well as a 512KB shared secondary cache. Built-in NPU support INT8/ INT16 hybrid computing, computing capacity up to 2.0 TOPS. Tensor Flow/MXNet/PyTorch/Caffe.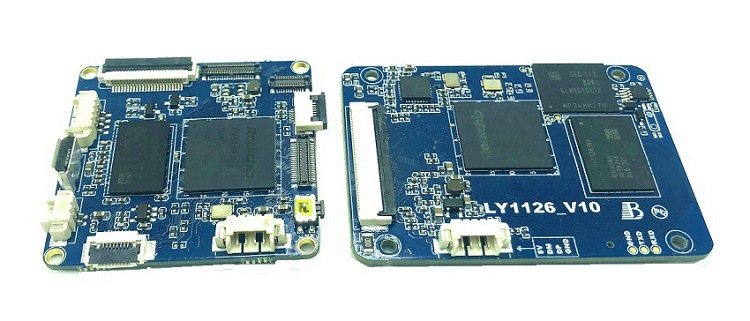 BPI-D2 also introduces a new generation of fully hardware-based image signal processor and post-processor. The chip directly integrates numerous algorithm accelerators to achieve algorithm acceleration commonly used in IPC and CVR. Can be used for IPC and CVR products (HDR, 3A function (AE, AF, AWB), LSC, 3DNR, 2DNR, sharpening, Dehaze, fisheye correction, Gamma correction, feature point detection, etc.). The chip integrates two MIPI CSI (or LVD S /SubLVD S) and a DVP interface, which can support the simultaneous input of three cameras. Core board adopts SODIMM 260P interface, electroplated nickel gold pin, corrosion resistance, super performance, system start speed, high stability.
BPI-D2 chip is widely used in intelligent security, video communication, video analysis and other scenes, currently in intelligent security camera, video conference camera, DMS system, vehicle data recorder and other products
feature:
1. The smallest size possible, only 38mm*38mm;
2. RV1126 adopts Smart265 encoding technology, which can reduce the size of files by half for the same video source if conditions are available.
3. With its own AI algorithm, it can realize cross-border detection, face detection, license plate recognition and other intelligent applications to speed up the process of product landing.
4. High integration board card, superior performance, high cost performance.
5. Multi-functional interfaces are reserved for users to expand independently.
38x38mm board inerface: