The BPI bit (also referred to as BPI-bit, stylised as bpi:bit) is an ESP32 with 32-bit Xtensa LX6 dual-core processor based embedded system. It supports Webduino, Arduino, MicroPython as well as Scratch X programming environments.
bpi:bit board is 5 cm x 5 cm in size, weighs 10 ~ 12 grams, it houses a 20-Pin edge connector, built-in lighting matrix with 25 programmable full-color LEDs , two photosensitive light sensors, two programmable buttons, an NTC resistor, a buzzer and a nine shaft sensor (triaxial acceleration Three-axis gyroscope and three-axis magnetic compass),
the I/O space configuration is as follows:
Full color LED matrix: GPIO4
Photosensitive sensor: GPIO36 (Analog A0, upper left), GPIO39 (Analog A3, upper right)
Button switch : GPIO35 (Botton A), GPIO27 (Botton B)
Temperature sensor: GPIO34 (Analog A6)
Buzzer: GPIO25
MPU-9250 9-axis sensor: GPIO0, GPIO21(SDA), GPIO22(SCL)

Webduino Bit is the latest board of Webduino with much more sensors on top of its basic functions(Wi-Fi connection, muti-connectivity,multi-board...). It uses ESP32 module,one of the most efficient and stable chipset in the market, which has built-in 2.4G Wi-Fi and Bluetooth,448KB ROM,520KB SRAM,speed up to 600 DMIPS,and 40 nm technology.
Webduion bit board has a compact size of 50mm x 50mm, weighs 10-12 grams.It has 20 pins at the bottom,25 full color LED array in the middle, two photo cells,two buttons, one thermistor,one buzzer,one 9-axis sensor(3-axis accelerometer,3-axis gyroscope and 3-axis magnetometer)

Hardware interface: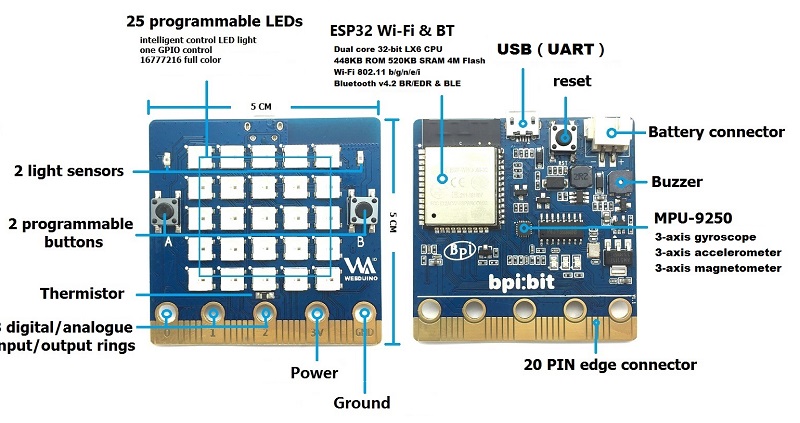 PIN definitions:
The edge interface is much compatible with those of micro:bit. so you may able to use micro:bit accessories on bpi:bit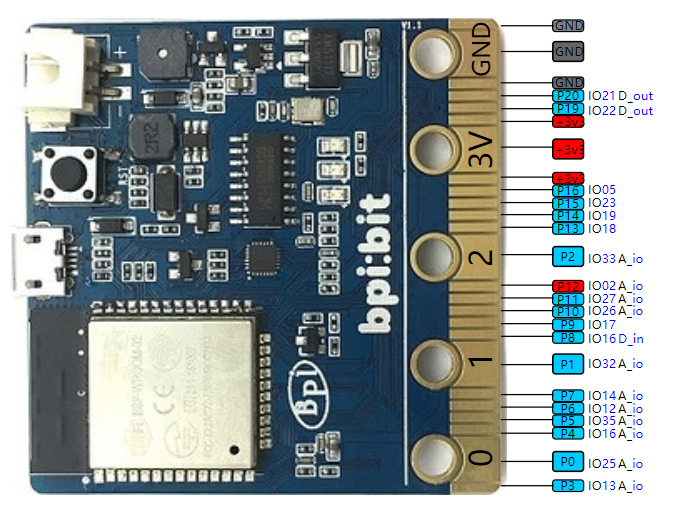 BPI:bit Spec and BPI:bit VS micro:bit
bpi:bit VS micro:bit
Module
bpi:bit
micro:bit
CPU
Dual-core 32bit Xtensa LX6, up to 240MHz
NXP KL26Z 32bit ARM Cortex M0, up to 16MHz
RAM
520 KB
16 KB
ROM
448 KB
Unkown
Flash
4096 KB
256 KB
Bluetooth
BT4.2 BR/EDR and BLE
BLE only
WIFI
802.11 b/g/n/e/i
N/A
Buzzer
1x Buzzer
N/A
5*5 LEDS
25 intelligent-control full-color (16777216 color) LEDs, Cascading all LEDs by a single line.
25 red LEDs
photosensitive sensor
2 light sensors
Basic light detection function on LEDs
temperature sensor
Stand along temperature sensor
On CPU chip temperature sensor
Motion sensor
MPU-9250 9-axis Motion Tracking : 3-axis accelerometer, 3-axis magnetometer, 3-axis gyroscope
3-axis Accelerometer; 3-axis magnetometer; no gyroscope, no motion processor
IO interface
edge interface (compatible with most micro:bit I/O features)
edge interface
Button
2 programmable buttons
2 programmable buttons
micro USB
1x micro USB(UART)
1 x micro USB(Mass Storage Device)
Software
Webduino,Arduino, MicroPython, Scratch X
Microsoft MakeCode, MicroPython, Scratch X
Size
5*5 cm
5*4 cm
Online Wiki development document:
https://wiki.banana-pi.org/BPI-Bit

Web:Bit(BPI:bit for webduino) play new height - Live


web:bit (BPI:bit for webduino)
Control AI car