BPI-6202 embedded single-board industrial computer, equipped with 2 independent MAC Ethernet ports (1G+100M), 2 RS485+1 RS232 ports, HDMI/USB, can be installed with large-capacity SDD hard disk, powerful and low price , Small size, easy guide rail installation, providing the most cost-effective on-site industrial control solution. As the master control node of edge computing, CS6202 makes full use of the powerful functions of embedded multi-core computing, which can access, process and display a large amount of on-site data; replace the conventional gateway + small monitoring system to achieve the optimal solution.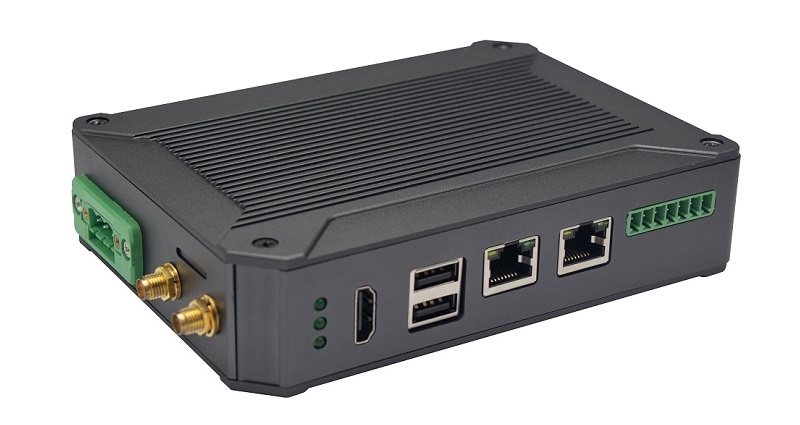 Product spec:
| | |
| --- | --- |
| CPU and OS | Allwinner A40I ARM Cortex-A7 quad cord 1.2GHz,Ubuntu/Mate |
| Memory | 2GB DDR3,8GB EMMC ;support SSD hardisk |
| Storage | 8GB EMMC ;support SSD Hardisk |
| communication function | Ethernet port: 1 x 1000M + 1 x 100M, independent MAC, 2 x RS485 with isolation + 1 x RS232 Consoel with isolation, 4G/5G full Netcom + WiFi |
| Extended function module | Horizontal expansion capability is reserved, and the expansion of various functional modules can be customized. The initial stage includes: RS485: with isolation; DI: passive input type, the module provides 24V isolated power supply; DO: relay output type, NC, COM, NO nodes; AI: 0-5V/4-20mA, 2-wire/3-wire input, the board provides 24V isolated power supply; AO: 0-5V/4-20mA, 2-wire/3-wire output, external 24V isolated power supply; AI + AO: 0-5V/4-20mA, 2-wire/3-wire input/output. The power supply is the same as above; other custom modules |
| HDMI | HDMI1.4, support 1080p@60fps ; USB supports keyboard, mouse; or resistive/capacitive display interface |
| Data processing capability | Equipment access capability: <=128 units (adjustable according to bandwidth and sampling period); analog value<10000; digital value<10000; control value<10000; expression calculation definition, alarm processing |
| video processing capability | Video RTSP/RTMP, Onvif, GB28181; video recording and playback; data trigger clip video recording and uploading; video AI event return and linkage, data OSD coding; local streaming service; H.264/H.265 playback |
| SCADA function | Full-featured SCADA system, processing points: 2048 points, C/S or B/S mode |
| development environment | Edge computing secondary development environment such as C/expression/ladder diagram/Java/Python |
| encryption chip | Software license authorization encryption chip (SMEC98SP); special encryption chip for State Grid communication (SC1161Y) |
| Power | DC:24V |
PCBA Interface: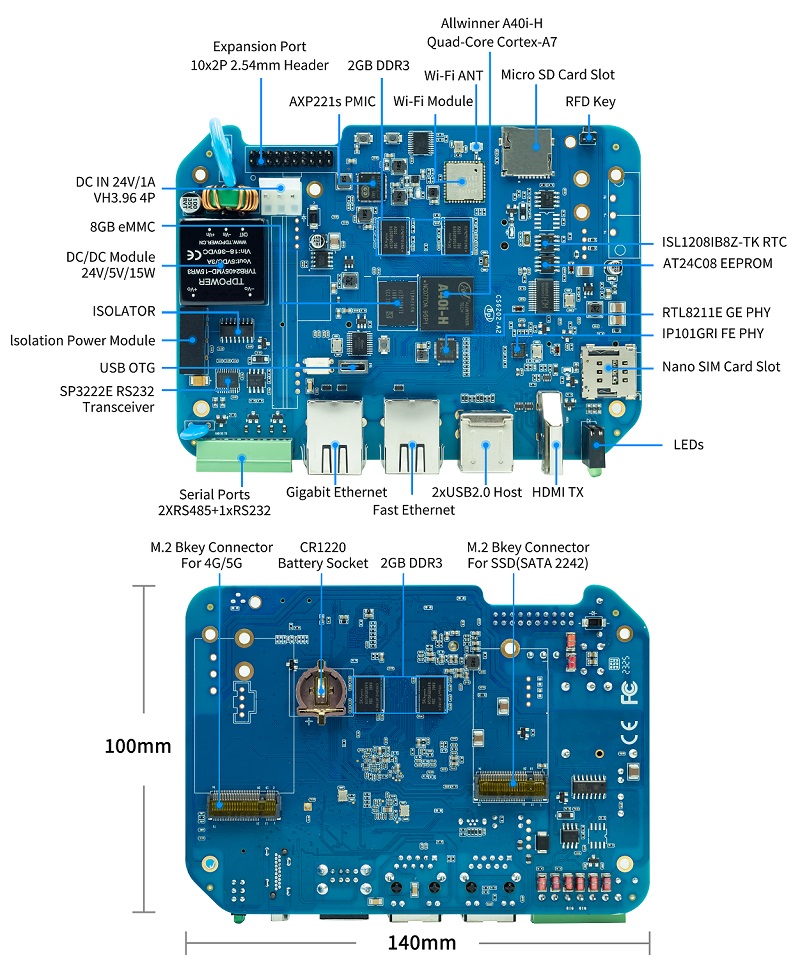 Product Interface: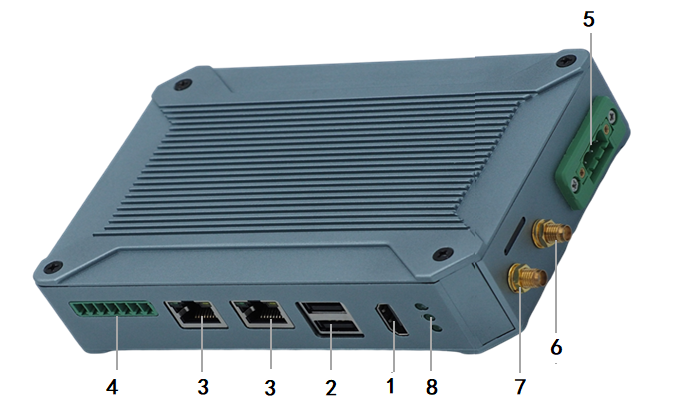 | | | |
| --- | --- | --- |
| No | interface | illustrate |
| 1 | HDMI 1.4 | HDMI video cable to connect the video output port and the monitor. Note: The HDMI video cable is not included in the installation accessory package and needs to be purchased by the user. Please choose a shielded cable with a length less than 3M |
| 2 | USB 2.0 | Use the USB interface to connect the keyboard/mouse/touch screen, and connect the U disk. Note: The USB interface does not support hot swapping of storage devices. |
| 3 | Ethernet port | Use a network cable to connect the Ethernet port of the device to the switch, supporting 1 x 1000M + 1 x 100M |
| 4 | RS232/RS485 | Phoenix terminal, RS232 x 1+ RS485 x 2, connect the cable terminal to the Phoenix terminal interface of CS6202, and make sure that the peer device and BPI-6202 are connected to the ground wire. |
| 5 | DC power | Phoenix terminal, using 24V DC power supply |
| 6 | WiFi Antenna Mount | SMA-K (external thread + internal hole), if you need to use the antenna to connect to the network, connect the antenna device to the BPI-6202 through the antenna interface. Standard 1 antenna, Wifi antenna, 4G+WiFi; |
| 7 | 4G/5G Antenna Mount | A standard 4G antenna is provided. If you need to expand 5G, you need to use a customized chassis and configure 4 additional antennas |
| 8 | 3 indicator lights | From top to bottom, they are: system running light, which flashes regularly during normal operation; reserved light (programmable and controllable); 4G/5G running light, showing cellular communication status |
BPI-6202 also support expansion board ,The expansion port adopts 2.54mm pitch, 2x10P row pin seat, which is used to expand 10 interfaces.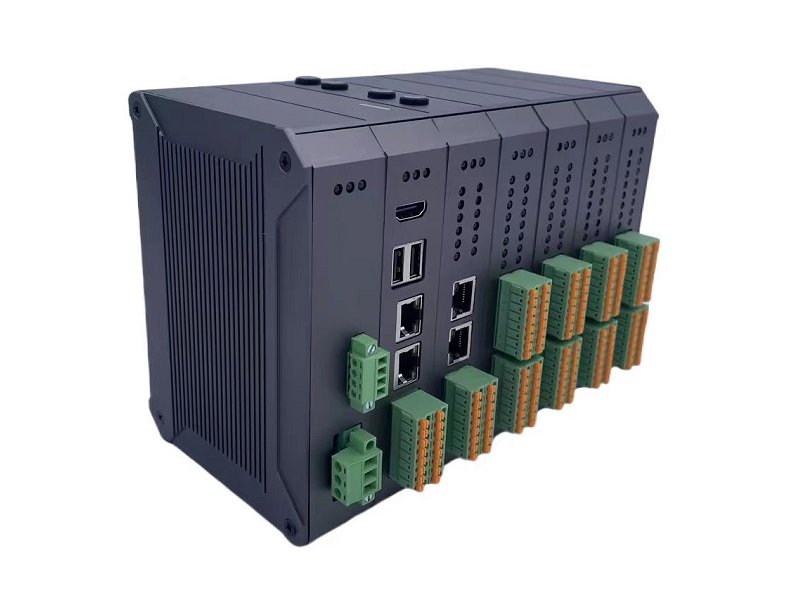 The BPI-6202 supports modular design, provides rich expansion interfaces, and can use the basic unit + 5 expansion units to support on-demand configuration. Extended IO unit modules include:
7 x RS485 module with isolation
16 x DI module (switch input module), passive input (up to 5 modules can be mixed)
16 x DO module (switch output module), relay output (up to 5 modules can be mixed)
8 x DI+8 x DO O module (switch input/output module), relay output (up to 5 modules can be mixed)
8 x AI + 4 x AO module (analog input/output module), support 0-5V, 0-20mA input
Customized Lora, ZigBee, 433M wireless transmission modules, power line carrier modules, and other functional modules,
The function board can be customized by third parties and can communicate with BPI-6202
All boards are connected via internal bus(485 or SPI) in the box
Online wiki documents :
BPI-6202 Embedded single board industrial computer