Banana Pi BPI-P2 Zero is an ultra compact single board computer measures only 65mm*52.5mm. It uses quad-core Cortex A7 allwinner H3 processor(Option : H2+ and H5), with 512MB RAM memory.8G eMMC flash,100M LAN,add PoE function support , It's ideal for light-weight systems with some space-limited applications. Like other members of Banana Pi, it supports both linux and android operating system.
BPI-P2 Zero, just 3 change on BPI-M2 Zero . other hadware design same as BPI-M2 Zero.so all software is same .
1,add 8G eMMC flash support onboard, easy to do IoT gateway.
2,BPI-P2 Zero with 100M LAN interface ,BPI-M2 Zero with PIN define for 100M lan , use way is same.
3,PoE function support on board.
Hardware interface: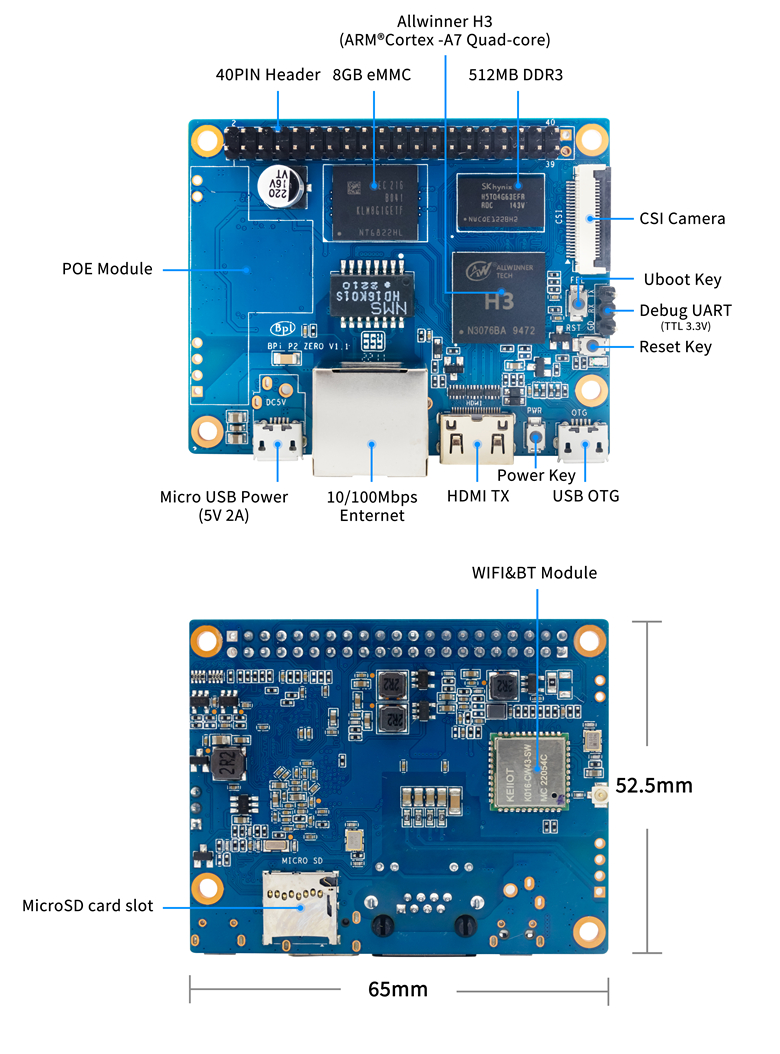 Hardware interface:
HardWare Specification of Banana pi BPI-P2 Zero VS BPI-M2 zero VS Raspberry Pi Zero W
Module
Banana Pi BPI-P2 Zero
Banana Pi BPI-M2 Zero
Raspberry Pi Zero W
CPU
H3 Quad-core Cortex-A7 H265/HEVC 1080P
H3 Quad-core Cortex-A7 H265/HEVC 1080P
Broadcom BCM2835 32 Bit 1 GHz ARM1176JZF-S single-core
GPU
Mali400MP2 GPU @600MHz,Supports OpenGL ES 2.0
Mali400MP2 GPU @600MHz,Supports OpenGL ES 2.0
VideoCore IV
Memory (SDRAM)
512M DDR3(shared with GPU)
512M DDR3(shared with GPU)
512 MB DDR2
Onboard Storage
TF card (Max. 64GB)
TF card (Max. 64GB)
TF card (Max. 64GB)
Onboard Network
100M LAN
NOPE (but can extension with PIN define)
NOPE
PoE power
PoE function support
NOPE
NOPE
Onboard flash
8G eMMC
NOPE
NOPE
Onboard WIFI
SDIO AP6212(option AP6181、AP6335)
SDIO AP6212(option AP6181、AP6335)
802.11n wireless, Bluetooth 4.1
Video decoding
1080p@60fps,H.264 Video encoding 1080p@30fps,H.264
1080p@60fps,H.264 Video encoding 1080p@30fps,H.264
1080p30 H.264/MPEG-4 AVC high-profile decoder and encoder
Video input
A CSI input connector Camera
A CSI input connector Camera
CSI camera connector
Video Outputs
mini HDMI 1.4,1080P@30fps, DHCP
mini HDMI 1.4,1080P@30fps, DHCP
Mini HDMI and USB On-The-Go ports
Audio Output
Mini HDMI
Mini HDMI
Mini HDMI
Power Source
Micro USB with 5V/2A or PoE power
Micro USB with 5V/2A
5V/2A
USB 2.0 Ports
one USB 2.0 OTG
one USB 2.0 OTG
one USB 2.0 OTG
Buttons
Power Button, Reset Button
Power Button, Reset Button
Composite video and reset headers
Low-level peripherals
40 Pins Header,compatible with Raspberry Pi 3
40 Pins Header,compatible with Raspberry Pi 3
40 PIN
uart GPIO(1x3) pin
UART, ground
UART, ground
UART
LED
Power led & Status led
Power led & Status led
Power Status LED
IR
N/A
N/A
N/A
Supported OS
android linux
android linx
Linux
Product size
65mm X 52.5mm
65mm × 30mm
65mm x 30mm
Weight
30g
15g
9g
Online wiki development documents:
https://wiki.banana-pi.org/Banana_Pi_BPI-P2_Zero